A cultural walking tour of Zichron Yaakov-with wine
Welcome to the charming hilltop town of Zichron Yaakov. Visit the vintners village where our wine story began.
Nestled on Mt. Carmel, this quaint village is home to the Carmel Winery and the first community that began plating vines in the land of Israel in the modern age. What began as a simple agricultural community gave rise to the world-class winery, enabling struggling farmers to form a cooperative and not merely survive, but thrive.
Join us for our signature tour, Walking with Wine as we break free from Tel Aviv and into wine country! Our tour visits the attractions and sites in town, the ohel Avraham synagogue, Rothschild fountains and gardens, revealing the stories and secrets of Zichron's streets and back alleyways. Together we gallery hop, visiting some of our favorite local artists, savor delicious snacks and a flavorful cheese plate as we meander around town, glass in hand, and enjoy the thrill of 'Walking with Wine'.
Meeting at Gan HaTiyul, we will enjoy an introductory tasting, visit the Ohel Yaakov synagogue, pit stop for a charcuterie board and enjoy a wine tasting with a local artist, finishing with one last l'chaim at the picturesque Beit Ha'mukhtar.
Walking with wine tour – Zichron Yaakov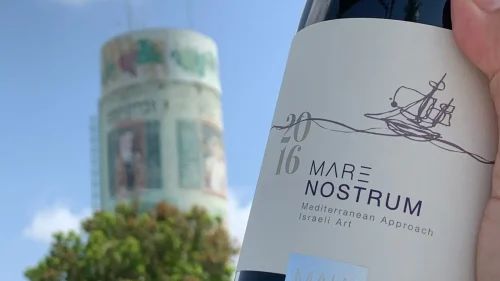 Details of this walking with wine tour
250 nis / person includes:
Meeting time & place
Thursdays (weekly)
10:45 am (for 11 am tour), 4:45 pm (5 pm tour)
(times are subject to change due to season)
Tiyul Garden: Herzl St 44-46, Zikhron Ya'akov, Israel
What people think about our guide and tours