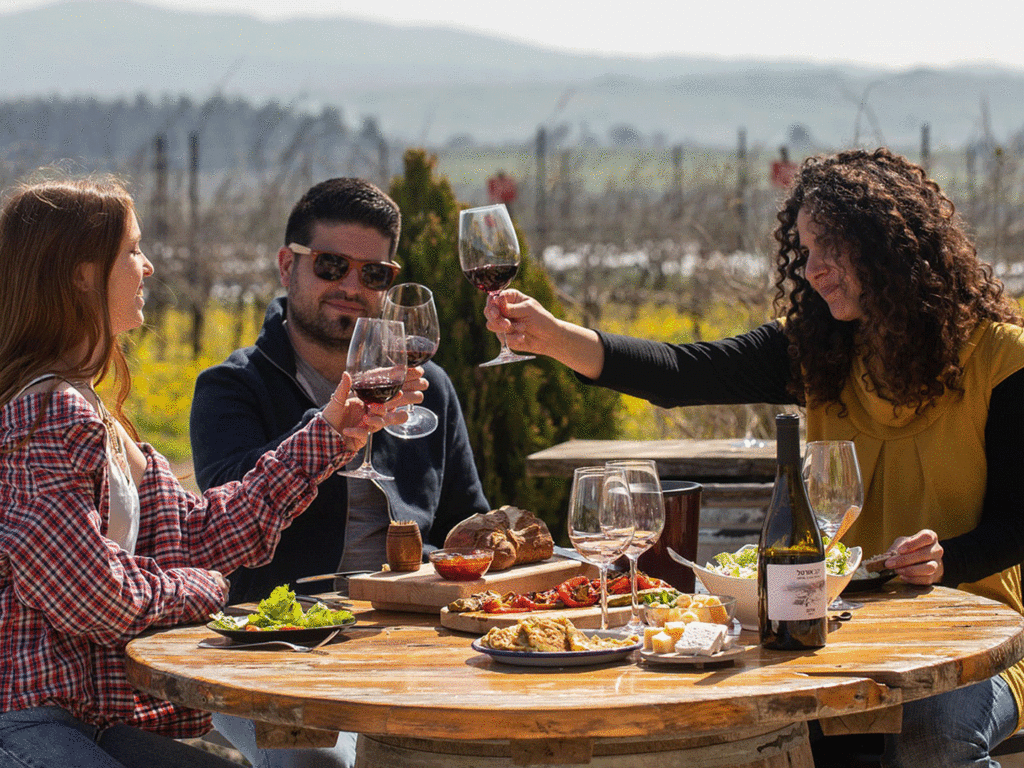 The Babylonian armies came seeking conquest, refugees have visited seeking safety, pilgrims seeking to confirm their faith, and sometimes kings and Kaisers come seeking their glory. 
I often say that a visit to this corner of the world is like no other, in that one is almost guaranteed to leave with a more profound understanding of themes like faith and belief, war and peace and at the very least, if we're hosting you, we'll certainly drink some good wine together.
The Kaiser's visit to Palestine in 1898 was one that left its mark on the land forever, both physical marks, as well as emotional juxtapose.  For the local Protestant German Templar communities located in various cities across the country (Haifa, Sarona), their king had arrived and his grace could not shine brightly enough upon them.  Their glorious Kaiser, who had proceeded over German unification had arrived to bless his citizens living outside of the homeland.
30 years earlier, it was Austrian ruler Franz Jospeh who had graced the holy land with his presence after the spectacle of the Suez Canal opening just down the coast in Egypt.  In both cases, these leaders we're in the business of Empire and a visit to the holy land always goes over with the church back home Likewise, the Ottoman Turks were enthused by the Kaiser's visit, though without the religious conviction seen by the local protestant German community. 
For those who have visited Jerusalem, you'll surely have seen the giant opening in the city walls at the Jaffa gate, blown open to allow the Kaiser to ride in on horseback, drawing images of the Crusaders who rode in some 600 years earlier. Likewise, a number of building projects were funded by this visit so the German leader could show his grandiosity and generosity towards his Christian subjects as well as the Ottoman allies.
German wine has a special place in the heart of us white wine lovers and so it is with gratitude that Gewurztraminer is one of the more popular white grapes popping up all around the land these days. Israel's white wine scene is still very young and while it's 1000 degrees here in the summer, cool whites are only just starting to take off. I've recently taken a deep liking to the crisp, succulent, dry yet mouthwatering potential of a well-crafted white wine. Sphera Winery in the Judean Hills is a perfect example of this fad and I sing their praises since they have dedicated themselves to only producing white wine! Their wine is elegant, well balance and I will almost always visit them with groups when we're in the Judean Hills since the temptation is too great to resist. I'm sure you will also.
Praise for Doron and Sima for their hard work. Check out their link here: www.spherawinery.com
I don't know what tomorrow will bring, or when this challenging time will pass, but I know that visitors will one day return, and I will take the greatest pleasure in hosting them for a wine tour to discuss the finer things in life over a nice cool glass of white wine, sitting on the balcony of Sphera Winery, overlooking the vineyards, sipping with friends as time stands still. I hope you'll be able to join me.